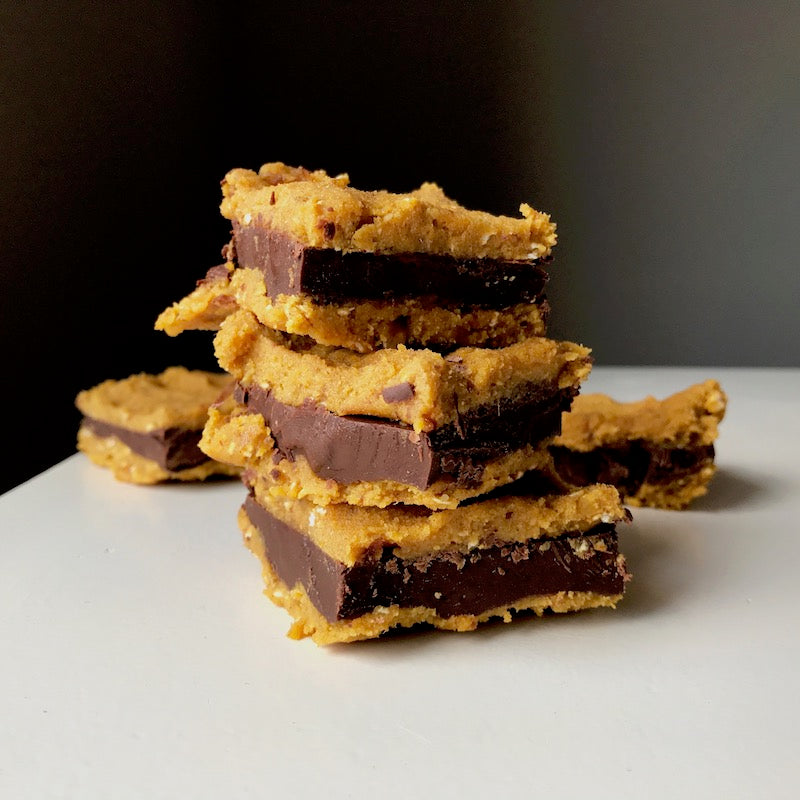 (Adaptogenic, Paleo, Dairy-free, Gluten Free) 
Happy October! It is officially time to embrace fall and all the seasonal pleasures that come with it! Starting with pumpkin! These bars are gluten free, vegan and paleo and adaptogenic! They are superfood filled and a perfect treat to add to your day! Enjoy 
INGREDIENTS
Pumpkin Bar 
2 cups almands or pecans 
1/2 cup oats 
10 dates 
1 scoop Great Lakes Ginseng Powder 
1/2 cup pumpkin puree 
1 tsp cinnamon  
Chocolate Layer 
1/2 cup coconut oil, melted
1/2 cup cocoa powder 
2-3 T maple syrup 
INSTRUCTIONS
In a food processor, combine the pecans, pumpkin and spices until you get a coarse ground consistency. Then add in the dates and blend a little more. You may need to add a tiny bit of water for the mixture to come together.
Line an 8x8 baking sheet - lined with parchment paper.
Press 1/2 the pumpkin/pecan mixture into the pan and place it in the freezer.
In a large bowl, mix all the ingredients for the chocolate.
Pour the chocolate mixture over the first pumpkin layer. Freeze again for 5-10 minutes.
Then press the remaining pumpkin mixture on top and place the whole thing back in the freezer for 30-35 minutes.
Once chilled, cut into bars and serve. Enjoy!
Enjoy 
#greatlakesginseng 
Kelsey Lee