Golden Chocolate Cashew Cups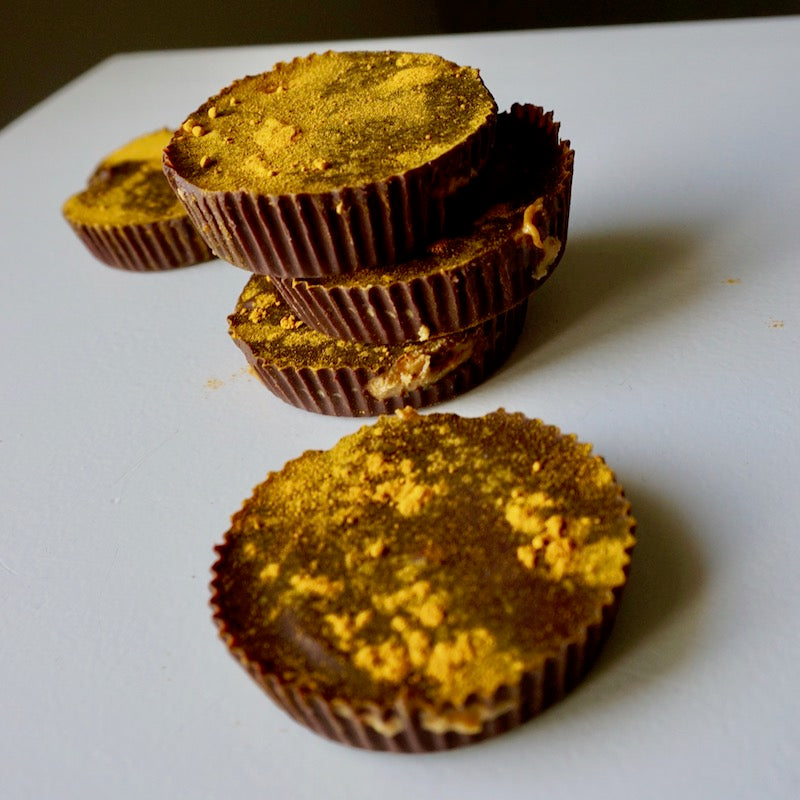 With superfoods and adaptogens making headlines everywhere, it is always fun to re-create old recipes in new ways to include them. Eating well and ensuring your body has the nutrients it needs to function properly really isn't that hard when you can incorporate them into your favourite treats! I love chocolate cups so why not stuff them full of ginseng and turmeric to help keep your immune system functioning optimally and reduce inflammation! 
(Dairy Free, Adaptogenic, Paleo)
INGREDIENTS
CHOCOLATE
10oz

bag dairy-free dark chocolate chips 

2

tsp extra virgin coconut oil
FILLING
1/4 - 1/3 

cup creamy cashew butter 

1 scoop Great Lakes Ginseng Powder 

1/2

tsp ground turmeric

1/2

tsp ground cinnamon

1/4

tsp ground ginger

1/8

tsp ground cardamom

1/2

tsp vanilla extract
INSTRUCTIONS
1. Line muffin pan with liners (This recipe will make 12 mini cups or 6 large cups) 
2. Use the double broiler method to melt chocolate and coconut oil over the stop top.
3. Scoop 1 tsp (mini) or 2 tsp (large) of the chocolate into the bottom of the muffin liners and then place in the freezer to firm.
4. While the bottoms set, Mix together all filling ingredients in a separate bowl.
5. Once bottoms have firmed, Use a spoon to press down the filling on top of the firm chocolate bottoms.
6. Cover with remaining chocolate!
7. ENJOY! These cups can be stored in the fridge or freezer! 
Kelsey Lee